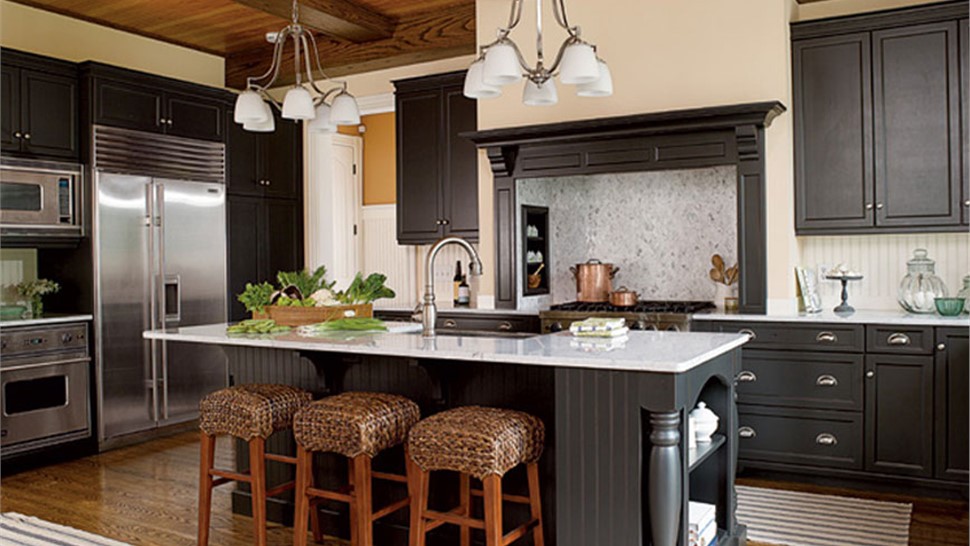 What's Cooking? Five Top Trends for 50+ Kitchens
Whether your targeted consumer is a treadmill-tromping active adult or an older senior with limited mobility, success in the mature market will require a new way of thinking about the kitchen, arguably the most important room in the home. And for the new-home shopper of any age, it remains vitally important to demonstrate the kitchen space with a model, showing the endless possibilities of today's high-tech, high-style kitchens.
Here are five current trends to look for when designing kitchens for today's mature market.
Location, Location, Location
While that is usually the most important tenet invoked when assessing a real estate purchase, it has become equally important to consider that when laying out a kitchen for the over-50 crowd.
Rethinking the placement of appliances, sinks, and storage so their locations are more comfortable for bending, reaching, and working will be the key to capturing this buyer.
Rethink the double oven, for example.
Why not install them in two separate locations — splitting, not stacking them – and eliminate that awkward oven on the bottom?
Realize that the over-the-range microwave might be not only difficult, but also dangerous for the average consumer.
And the dishwasher? That's something we've all spent too many years bending over to load and unload, so why not raise the dishwasher with separate drawers installed at counter height?
"The universal reach ranges from 15 to 48 inches," says Mary Jo Peterson, CKD, CBD, CAPS, a kitchen and bath designer and universal design professional who recommends implementing this sort of out-of-the-box thinking. Consider the array of other appliances in drawer formats, such as microwaves, refrigerators, warming drawers, and ice makers.
When dedicating space to a built-in refrigerator, cautions Peterson, make sure that the space allotted never extends beyond the counter top. When installing a free-standing fridge, a 24-inch depth is a good rule of thumb.
A mini-kitchen built right into a master suite may just be the only private place in some households for a morning cup of coffee. In this room, make sure there are plenty of electrical outlets to accommodate appliances such as a microwave for quick coffee warm-ups, and a mini-fridge for those middle-of-the-night ice cream indulgences.
Everything, Including the Kitchen Sink
Most households have more than one cook in the kitchen, so how about two sinks? A prep sink, in addition to the main sink, will create a separate work zone. Smart sinks, such as Kohler's trough-shaped stainless steel Crevasse, are made especially for food prep, automatically rinsing food scraps and activating the disposal.
A bar sink in the nearby dining or family room creates more possibilities when entertaining. The enameled cast iron Kohler Cordial® bar sink, includes an ice mold and holes for chilling up to three bottles of wine.
Working sinks are often two-to-three inches deeper today, accommodating larger pots and pans and keeping splashing to a minimum. Stylish options range from apron sinks (also known as farm sinks) to sleek, contemporary stainless steel designs. And how about a pop of color? Designer Jonathan Adler has partnered with Kohler to bring a splashy new line of sink colors, such as Greenwich Green, Piccadilly Yellow, Palermo Blue, and Annapolis Navy.
The sink faucet has been re-imagined, too. The Kohler Karbon articulated arm is a great option for the mobility challenged. And pot fillers are increasingly popular, alleviating the heavy lifting required for carrying a heavy pasta pot from the sink to the stove.
Fantasy Island
Kitchen islands have become more stylish and functional. For the less mobile resident, or for people whom standing is a problem, create an island niche or fold-up extension that accommodates sitting while preparing food. Another trend is to situate the microwave at the end of an island, making it more reachable for the mobility-challenged user, or even the grandkids.
And while we're at it, why not consider two islands? One can be for eat-in convenience and the other for chopping and rinsing. Two-tiered islands and breakfast bars offer additional flexibility, and cabinetry in finishes contrasting with the base cabinets appear more like furniture than a built-in.
High-Tech Touches
Don't forget to include a tech nook in today's kitchen. A great many of the over-50 crowd are quite comfortable with the Internet, email and social networking, so a computer desk in a kitchen will allow them to browse for recipes on cooking sites and Pinterest, and monitor the front door at the same time.
A docking station will allow them to recharge all of today's gadgets. Streamlined systems can be slipped out of sight behind a base or wall cabinet.
For the less mobile or eyesight-impaired, a monitor mounted on an articulated arm can adjust for height and distance.
Even appliances are going decidedly high-tech, and can make life easier for today's over-50 consumer. Manufacturers such as Hafele are making cooktops with built-in computer monitors that produce induction heat that is both green and safe.
Using technology borrowed from the smart phone, Thermador's Freedom induction cooktop boasts a full-color touchscreen interface.
And for the grandkids, how about a flat-screen TV that pulls down from above the cabinets?
Earth-Friendly Fashion
While granite is still popular, the countertop world has opened up with new possibilities that are Earth-friendly, such as lava stone counters that emit zero toxins. Butcher block is making a comeback, and soapstone, limestone, glass, copper and concrete are other natural countertop materials. Recycled glass and metal shavings sealed into a transparent matrix also are environmentally conscious choices. So are low-VOC paint and bamboo flooring.
Cabinets are still key, and according to Sarah Reep, director of designer relations and education at Masco Cabinetry, the 50+ Housing Council's universal design sponsor. "Home owners are looking for flat panel doors with clean lines and matching drawer fronts. They're drawn to maple, cherry and straight grain oak that has minimum texture and a more controlled pattern than in previous years."
Crisp, clean, painted cabinets such as are popular choices right now.
Natural woods such as walnut, mahogany, hemlock and bamboo, are making strong appearances. Contrasting colors and two-tone colors are popular, not only for cabinets, but for countertops and appliances as well.
Don't underestimate this important market's discerning taste or desire for style and technology. For the builder catering to today's over-50 market, the possibilities are endless. By staying on top of the shifting trends in this important market niche, builders will be able to target — and satisfy — this important demographic group in the future.
Doris Pearlman is founder of POSSIBILITIES FOR DESIGN, a nationally recognized, award-winning, interior design and merchandising firm based in Denver. The firm specializes in market-driven interior space merchandising and trend-setting designs. Pearlman is an active member of NAHB's 50+ Housing Council and the NAHB Institute of Residential Marketing. She is an active board member for HomeAid and lectures and teaches courses nationally. To date, POSSIBILITIES FOR DESIGN and its clients have been accorded more than 100 awards.The firm's philosophy is to deliver quality interior design and merchandising, and design for all types of shelter.